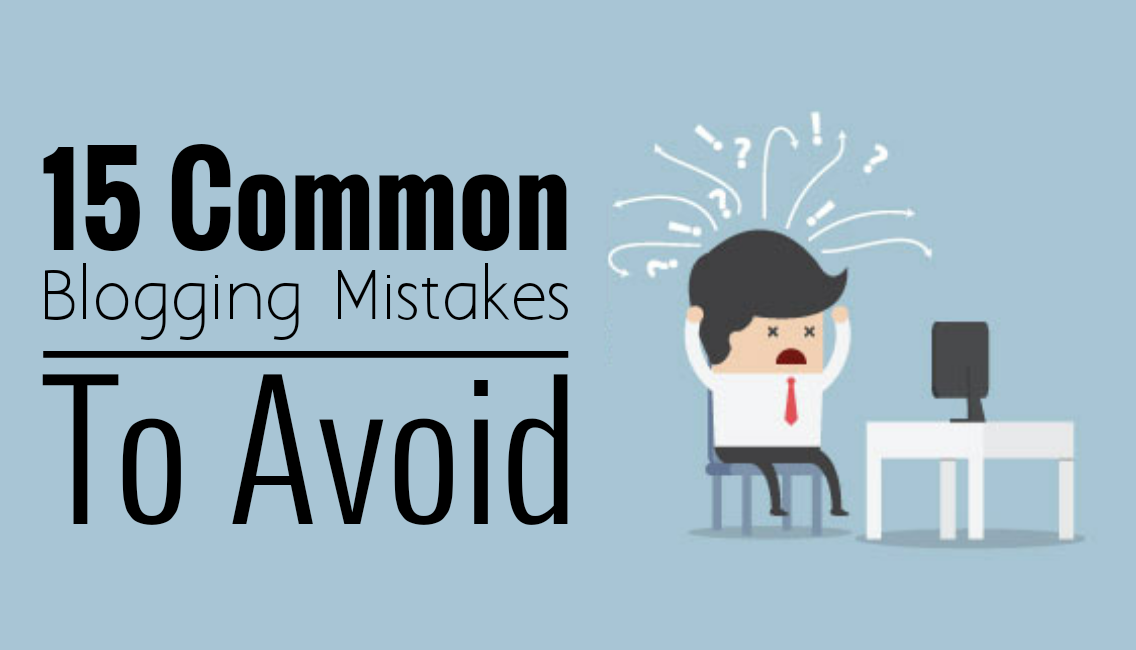 There are lot of mistakes a newbie bloggers make and some of those are acceptable but many of them are unavoidable. Here i will focus more on WordPress because WordPress best is probably the best CMS out there. Nearly all blogger starts with and rely on WordPress CMS. Thousands of websites and blogs have been created using this platform. Many people are prone to making certain mistakes when using WordPress. Today im talking about common mistakes you should avoid(if you do) and also share some easy fixes to save your blog before get ruined.
15 Common Blogging Mistakes to Avoid | How to fix before it ruin your carrier
#1. Choosing Free themes
Usually newbie blogger opt for free themes because they who don't have web development skills.It can be downloaded and setup  easily.Choosing free themes is considered as a big mistake.know why ? Look the same theme you chosen might have already been used by hundreds of other WordPress sites. Having a site with a generic look would not be advisable for any business or brand. Also free themes usually vulnerable to all kinds of security threats. This means that your site would always be an easy target for hackers. Finally, free themes in most cases don't always offer customer support. Whenever any problems arise, you will have to deal with them on your own. Some themes are not SEO optimized and slow loading which hurts your presence on web. If you are looking for a good SEO company I recommend checking out SEOly.
#2. Accepting all comments
Comments are useful and helps a lot in increasing your blog credibility.Since you are the admin of your blog, you are responsible for approval or rejection of any comment on your blog. Maintain your blog comment quality by accepting only meaningful and useful comment.
and use good spam comments plugin like Akismet(using )
#3. Using excess plugins
Besides widgets, WordPress also offers several plugins which can enhance the functionality of your site. However, installing too many of them will only end up slowing down your site. In addition, if poorly coded plugins, they might expose your site to security threats. To avoid his problem, only install plugins which you actually intend to use and ignore the rest.
#4. Ignoring mobile device users
Nowadays, many people access the internet using their tablets, ipads and smartphones. If your blog is not configured appropriately, such mobile device users might have a problem accessing it. It is therefore very important to ensure that your design is responsive and mobile-friendly. This will enable you to reach a wider audience and enhance your chances of success.
#5. Not paying attention to your blog's speed
Speed is the major ranking factor in Google and other search engine.Not only is site speed a ranking factor in search engines like Google, for every second you make your visitors wait for loading.
You can check your site speed, to check speed you can use Pingdom or WebPageTest. After successful speed test ,it also provide you solutions to speed up your site.
#6. Subscription option
Yes, you write amazing content and your blog is full of quality stuff but how are you planning to let your visitors know about new content? Are you offering enough subscription options ? There is feedburner, Facebook fan page, twitter profile, Email subscription and many other subscription options that you can and should offer to your readers. You can read our earlier guide on Must have subscription options for any blog.
#7. Lot Of Overconfidence
I always prefer that learning from a genius person never spoils our reputation, it in fact gains a lot of knowledge in us. Each and every expert will have a guru experts than them in any topic. So it is always a good practice to learn from pro bloggers and enrich our knowledge. Learning is a never ending concept if you will to learn.
One thing, Blogging is a very major field, even if you are a Pro-blogger, there is scope of learning always. Open your mind and keep an attitude of learning from others.  Start reading other blogs in your niche, this will be really helpful for you to enhance your insight and skills.
#8. Not using images in your posts
Don't make your posts boring. People love images. In fact, images get 94% more total views than posts without them. Have multiple images throughout the post to break up the words.
#9. No Communication
Communication is the major factor that can make a one time visitor of your blog as the regular reader of your blog as well as the fan of your blog. A proper communication can only make your blog visitors feel friendly with your blog. A blog without proper communication is like a seminar without speech. You must always communicate with users of your blog and make them your blog friendly to gain more readers for your blog.
#10. Failing to backup
If you don't backup the pages of your site, you run the risk of losing all the content on your pages. Fortunately, WordPress offers several backup plugins which you can choose from. Once you've installed the plugin, be sure you test it to ascertain its effectiveness.
#11. Not doing your keyword research
If you don't rank for a keyword or topic in search engines, each blog post you do will get an increase in traffic to your site for a day or two and then drop off, never to be relevant again.
This is definitely not what you want. Look at each blog post like an investment. Figure out where you have a good chance of making the post do well long term and then do everything you can in that post to get to the top.
When it ranks on page 1 for the keywords you targeted, it's like a little long term investment that will keep bringing in traffic, subscribers and sales for years to come. You can use Google's Keyword Planner to find good keywords.
#12.  Using Extraordinary English
The blog is viewed by worldwide people's and it must be in such a manner that each visitors must understand your words. Writing like a poet can only impress few people's who can understand it, but writing like a normal citizen can make it understandable throughout the world. So always write your blog posts in normal English even though you are a genius in English essay writing, use the personal statement writing service if you need some help with that.
You should also know, readability of your article is also consider as one of search engine ranking signal, you can use pro plugin like EasyWPSEO to see your readability score and improve it.  Also, you can install After the deadline WordPress plugin, which is a useful grammar and spelling check WordPress tool.
#13. Using excess plugins
Besides widgets, WordPress also offers several plugins which can enhance the functionality of your site. However, installing too many of them will only end up slowing down your site. In addition, if poorly coded plugins, they might expose your site to security threats. To avoid his problem, only install plugins which you actually intend to use and ignore the rest.
#14. No Social Media Exposure
Social Media have become one of the essential SEO strategy for bloggers in effectively attracting several new and unique users towards their blog where social networks are the residence of millions of users today. As your blog gets more and more exposure on social networks like Facebook, Twitter, Google Plus, etc your blog's popularity goes on increasing without end. You must always provide some easiest method of social sharing for your blog visitors.
Most of bloggers I know are very reluctant when it comes to Social media. Social media is one of the best tool to increase the visibility of your article. Specially, now in after Panda and Penguin update, it's important for you to encourage your readers to share article, as it will help in boosting your social signals and hence search engine ranking.
#15. Linking out
Another Blogging mistake which you will notice on most of blogs is linking out to other site. Many new bloggers often add links as plain text and don't add hyper link. It not only give bad user experience but also you miss out benefits of outbound links, which helps you in increasing your SEO score. Never feel shy to link out to authority and useful pages.