If you are an internet user then I am sure you have encountered the dns_probe_finished_bad_config error on your computer screen, haven't you? This is the very common error which can appear in any kind of website or any kind of browser as well as like Google Chrome, Mozilla Firefox, Safari, Opera, etc.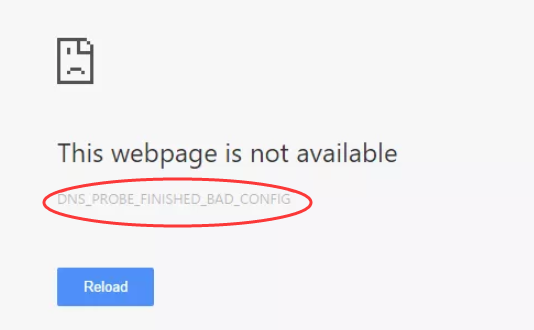 And there is no doubt it's very frustrating because this error stops you to visit the websites so in this article I have written all the methods with the help of which you can easily solve this problem.
One more thing that I want to tell you that not only windows or Apple users face this problem even Android users can face this also so all the methods that I am going to tell you are also applicable to android as well as.
Why this Error occurs?
There are some reasons behind this Error.
It's possible that you have changed the Network setting accidentally
Maybe you have used some browser plug-ins for example VPN which may hijack and changed your IP/DNS   address.
Or maybe your router setting has been changed.
These are some reasons because of that you are facing dns_probe_finished_bad_config error.
Solutions
Method- 1: Restart your Wi-Fi Router
This is the simplest and easy way to solve this issue. All you have to do just Turn-off your router button and then after one or two minutes turn-on it again, you can restart your computer as well as and then again connect your system to your Wi-Fi.
After the whole process tries to visit any website there are high chances that error will not appear again but still if it appears again then don't worry we have some more solutions for you also.
Method -2: Clear Browser Cache
Sometimes the poor cache also cause this problem so for that you have to clear all the cache from your browser and it's very simple no matter which browser you are using.
Just follow these simple steps.
Step 1:   Go to setting of your browser
Step 2:   And then check for History of your browser
Step 3:   In that option, you will be able to clear all the cache and cookies of your browser
After doing all the above steps just simply refresh your Google browser and most probably problem will be solved.
Method – 3: Reset Google Chrome Browser
If all the above method doesn't work then you have one more option to solve this problem and that is "Reset your chrome browser"
But if you are using any other browser like Mozilla Firefox then you can contact support forums to see how to reset the browser.
These are the steps to Reset your Google Chrome.
Step 1:    Click on three dots which appear on the right upper corner of Chrome
Step 2:    Then go to setting
Step 3:    As you scroll down you will see "Advance setting" and just click on that
Step 4:    Then click on the "Reset and clean" button
Now go back and just refresh your browser and see the problem is solved or not.
Method – 4: Change DNS Setting
Whenever we get an internet connection then our Internet service provider always provides us particular DNS but sometimes it's likely to have some problems with your current DNS whenever you face this error. So that time you should change the current DNS with alternative available.
You can easily get Free DNS from Google because it's easy and safe to use.
Step 1:  Go to Control Panel
Step 2:  Then click on network and sharing center
Step 3:  Then click on Change adapter setting in the left side of the menu
Step 4:  If you see any network with red mark then do the right click on it and go in properties
Step 5:  Then in Networking tab highlight "Internet Protocol Version 4 (TCP/IPv4)" and then click on properties
Step 6:  Then you will see "Use the following DNS server addresses" and set the DNS server to another available server.
Step 7:  You can set DNS server like 8.8.8.8 then click on OK
Conclusion
I am pretty sure after trying all the above methods your problem would be solved but still, after trying all of them you are still facing the dns_probe_finished_bad_config error so just comment us below, we would happy to answer you.