Usually Operating systems are in GBs like windows 8 ,10 or Kali LINUX .Some people still rely on old systems but technology and softwares growing day by day , so it's compulsory to up-to-date your system with latest softwares .Older computers hardwares give up in front of modern softwares .Don't worry there are still soo many operating systems which supports grandfather's computer. Here i have listed some micro ,small and portable operating systems which can be run on 80Mb of RAM .Some of OS supports floppy disk to boot from it.These operating systems are exteremly lightweighted and offer ability to run the operating system from USB stick or memory card,thats why it's called Portable operating system. These operating systems boot live from USB and loads on RAM .These are 100% safe ,infact you will amazed when you try above Operating systems .It won't harm preinstalled OS in computer.
Also checkout: Lucky Patcher Apk
Here i have listed OS from 1.44 MB to 290MB [Don't shock ? ,let take a look and try it ]
Requirements to Run Portable Operating Systems :
Any processor
10~125MB of RAM[ Depends on OS ]
Not as such requirement in Live OS but recommended minimum 10 GB HDD
Top 10 Smallest and Portable Operating System
1.] Kolibri | Portable Operating System [ Size~1.44MB ] :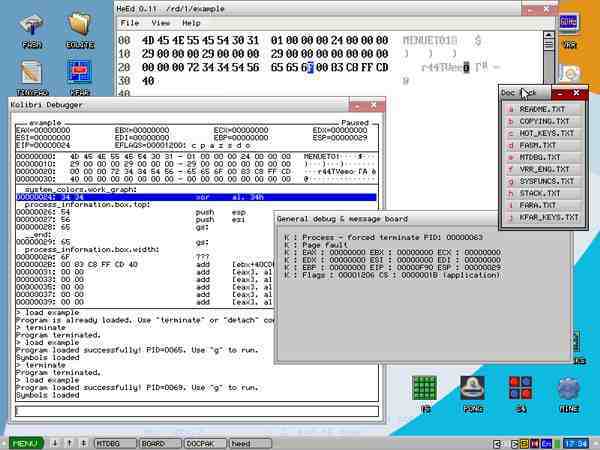 KolibriOS  is the smallest ,no not smallest .It is micro GUI operating system ever. It was forked off from MenuetOS. Written completely in assembly language, it is available in two versions: 1.44MB with essential features and 3MB with additional features. Despite being small enough to fit in a floppy disk, Kolibri is a complete and working graphical user interface.KolibriOS is a tiny yet incredibly powerful and fast operating system. This power requires only a few megabyte disk space and 8MB of RAM to run. Kolibri features a rich set of applications that include word processor, image viewer, graphical editor, web browser and well over 30 exciting games. Full FAT12/16/32 support is implemented, as well as read-only support for NTFS, ISO9660 and Ext2/3/4. Drivers are written for popular sound, network and graphics cards.
Major key Specs of Kolibri OS:
Boots up in less than 10 seconds
Incredibly tiny ,micro in size
required only 8MB of RAM to Run.
Free Available OS image for downloading .Ranges from ~1.44MB
Can be booted from floppy disk ,USB ,flash drive or other storage devices.
Kolibri can read many file systems including FAT32, NTFS, and EXT3/4. It has applications for all basic computing tasks, such as text editor, email client, HTTP client, etc.
2.] Tiny Core LINUX  | Portable Operating System [10MB]
Tiny core LINUX is an another micro OS like Kolibri OS .CorePlus ofers a simple way to get started using the Core philosophy with its included community packaged extensions enabling easy embedded frugal or pendrive installation of the user's choice of supported desktop, while maintaining the Core principal of mounted extensions with full package management.Linux. Tiny Core uses the Linux Kernel and a set of command-line (text interface) tools including busybox.
Unusually Fast. Unlike most operating systems, the Tiny Core can run completely from RAM. Individuals with RAM to spare can even use Tiny Core to load and run their programs from RAM (you didn't know your computer could run Open Officeand Firefox so quick). Experienced users can still install Tiny Core to disk, but Tiny Core can run in 48 megabytes of RAM … or less.
TinyCore becomes simply an example of what the Core Project can produce, an 15MB FLTK/FLWM desktop.
It is not a complete desktop nor is all hardware completely supported. It represents only the core needed to boot into a very minimal X desktop typically with wired internet access.The user has complete control over which applications and/or additional hardware to have supported, be it for a desktop, a netbook, an appliance, or server, selectable by the user by installing additional applications from online repositories, or easily compiling most anything you desire using tools provided.
Tiny Core available in 3 flavors :
Core [10MB] : Core is the base system which provides only a command line interface and is therefore recommended for experienced users only.Ideal for servers, appliances, and custom desktops.
Tiny Core [15MB] :TinyCore is the recommended option for new users who have a wired network connection. It includes the base Core system plus X/GUI extensions for a dynamic FLTK/FLWM graphical desktop environment.
Core Plus [86MB] : CorePlus is an installation image and not the distribution.With lots more advance features like wireless network support.
3.] NimbleX | Portable Operating System :
NimbleX is a small but versatile operating system which is able to boot from CD, flash memory (USB pens or Mp3 players) and even from the network. Because it runs entirely from a CD, USB or network it doesn't require installation.
NimbleX was designed to be versatile, user friendly, very fast and most importantly indestructible.
In NimbleX you can browse the web with Firefox, chat with your friends using the Kopete multi-protocol IM application, download torrents with Transmission, use DC++, connect remotely to other computers and many more.
4.] Damn Small Linux | Portable Operating System[50MB]
Damn Small Linux is a small Linux operation system about 50MB that can be run from USB flash drive in RAM within 16MB .It is not only small but come with fast operating system. It has a nearly complete desktop, and a tiny core of command line tools. All applications are chosen with the best balance of functionality, size and speed.
5.] Puppy Linux | Portable Operating System[80MB]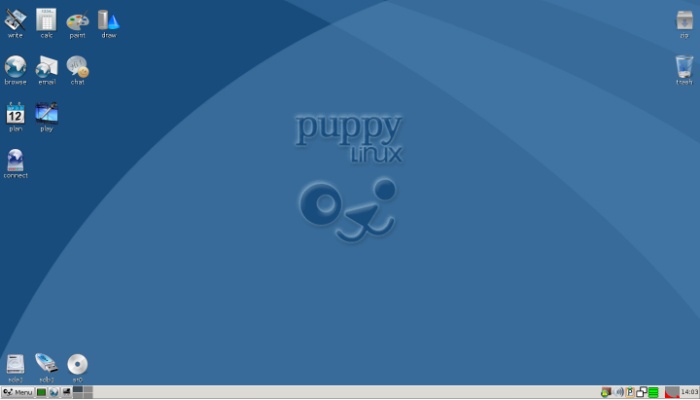 Puppy Linux is Linus Operating System that has fast on startup even in old PCs and it does not require antivirus software. Administering Puppy is quick and minimal. It's easy to set up because Puppy Linux can be run from CD, DVD or USB flash drive. It's also fast on loading, in less than a minute because Puppy Linux is small. Puppy has size about 100 MB, or about 256 MB with OpenOffice.
6.] Slax  | Portable Operating System[250MB]
A perfect beautiful portable LINUX under 250MB .Slax USB is modern and portable Linux operating system with small size and fast on loading. It comes with basic applications and also beautifully designed .Slax is a Live operating system based on Linux runs from an external media without any need for permanent installation.
Slax is available for 32bit and 64bit processor architectures. The 32bit version is designed to run on very old computers (as old as Intel 486; that dates back to 1989). It will run properly on brand new computers too, but it is limited in the amount of RAM it can see and limited to 3GB of RAM maximum. The 64bit version has no such limits, but will not run on computers older than a few years. If you plan to use Slax on very old computer, or you seek for a system with maximum possible compatibility, then choose 32bit. If your intention is to use Slax on brand new machine, you'll better go for 64bit.
7.]  Xiaopan OS  | Portable Operating System[150MB] :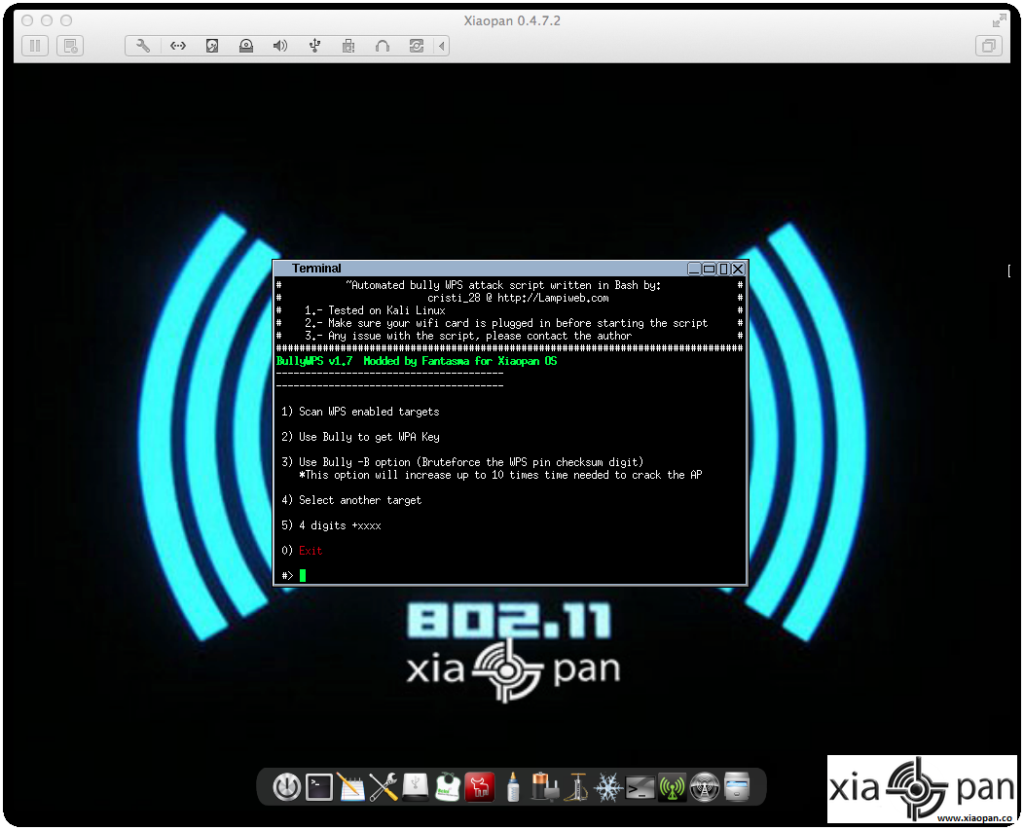 Xiaopan is actaully based on the Tiny Core Linux (TCL) operating system (OS), it has a slick graphical user interface (GUI) requiring no need for typing Linux commands. Xiaopan OS is Windows, Mac and Linux compatible and users can simply install and boot this ~70mb OS through a USB pen drive or in a virtual machine (VM) environment.
Xiaopan OS is basically an easy to use software package for beginners and experts that includes a number of advanced hacking tools to penetrate WPA / WPA2 / WPS / WEP wireless networks. Some of the tools included are Inflator, Aircrack-ng, Minidwep GTK, XFE, wifite and feeding bottle. Supported cards include RTL8187L, RT3070, AR9271 and many more.
See also : Top Penetrating testing OS for Hackers
8.] PUD Linux | Portable Operating System :
PUD Linux is a light and fast portable operating system based on Ubuntu Linux, but with small size (about 256 MB), and Chinese enhancements (both Simplified/Traditional). It has minimalist desktop with pre-configured and selected applications.
9.] Porteus | Portable Operating System[300MB] :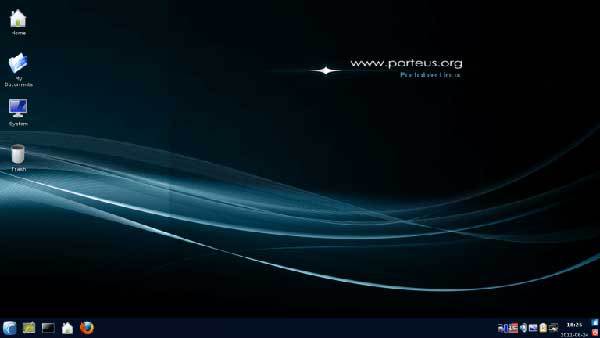 Porteus is a complete linux operating system that is optimized to run from CD, USB flash drive, hard drive, or other bootable storage media. It's small (under 300Mb) and insanely fast which allows you to start up and get online while most other operating systems are left spitting dust. Porteus comes in both 32 & 64 bit and aims to keep on the bleeding edge. It also supports several different languages and the user forum has language sections. Join the community now!
10.] MooLux | Portable Operating System :
MooLux is a portable Linux operating system based on Slackware that utilizes the KDE desktop environment. MooLux is contain a lot of useful tools for Internet browsing, email, chat, multimedia, office and software for C, Python, Perl programming tasks, and some simple games. MooLux needs at least 1 GB memory space on USB Stick or memory card.Moolux can also easily expand using packages from Slackware or other Slackware 3rd party sites.
See also : Top Pen Testing Tools for hackers
At last ,some words about portable OS :
Above Operating systems are incredible ,no doubt but it can't by replaced by Primary OS like windows or mac .These OS are specialized to rescue administrator computers accounts .Also ,these OS can revive your grandfather's PC.